Between the Lens and the Eyepiece
If we were in the belly of the camera, the empty stage is the working space for the optics of the camera. Where the three dimensional world is recreated on a smaller scale, in a flattened form. The tradition of baroque flat scenery, arranged in a perspective from the proscenium to the back of the stage put me in mind of the layers in a bellows of an old camera – also reminded me of the flattening of planes of distance one sees in binoculars – a sort of quantum perspective, depth given by a series of jumps of flat planes.
Black Box / Chambre Noire
2005
Animated 35 mm film transferred to video, projected front and back onto model theater with drawings and mechanical puppets
Musical composition
Philip Miller
Mechanical Design
Jonas Lundquist
Singers
Alfred Makgalemele, Vevangua Muuondjo
Musical recordings in Namibia
Minette Mans, Philip Miller
Programming for mechanical objects
Ronald Halgren
Editing
Catherine Meyburgh
Lighting
Ann-Charlotte Fogelström
Black Box / Chambre Noire  was co-commissioned by Deutsche Bank and Solomon R. Guggenheim Foundation for the exhibition William Kentridge: Black Box / Chambre Noire at Deutsche Guggenheim
October 29, 2005 – January 15, 2006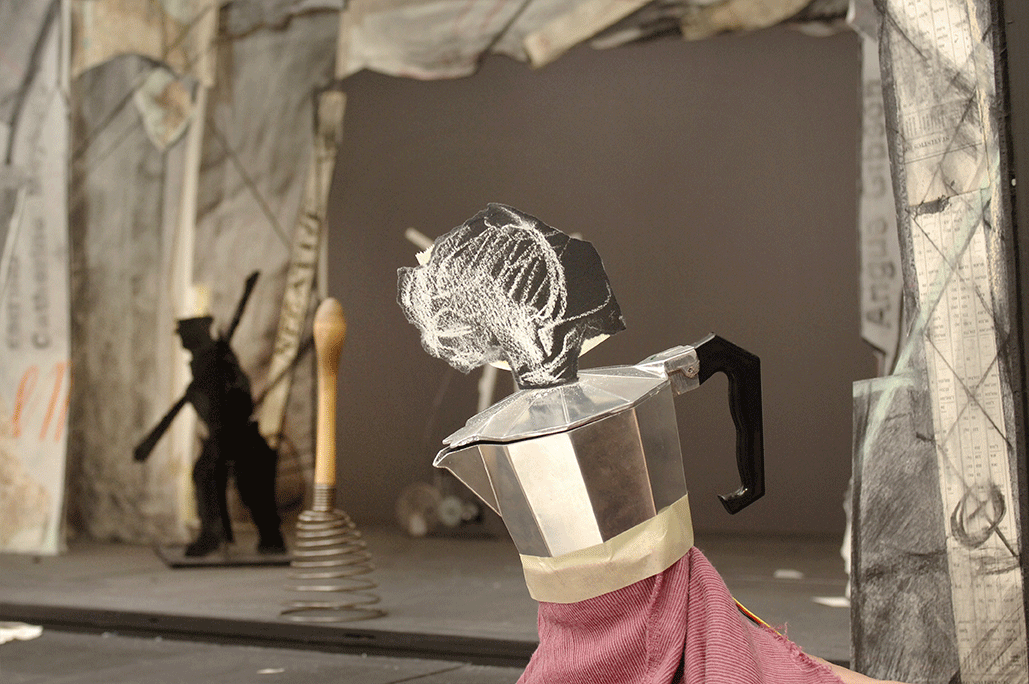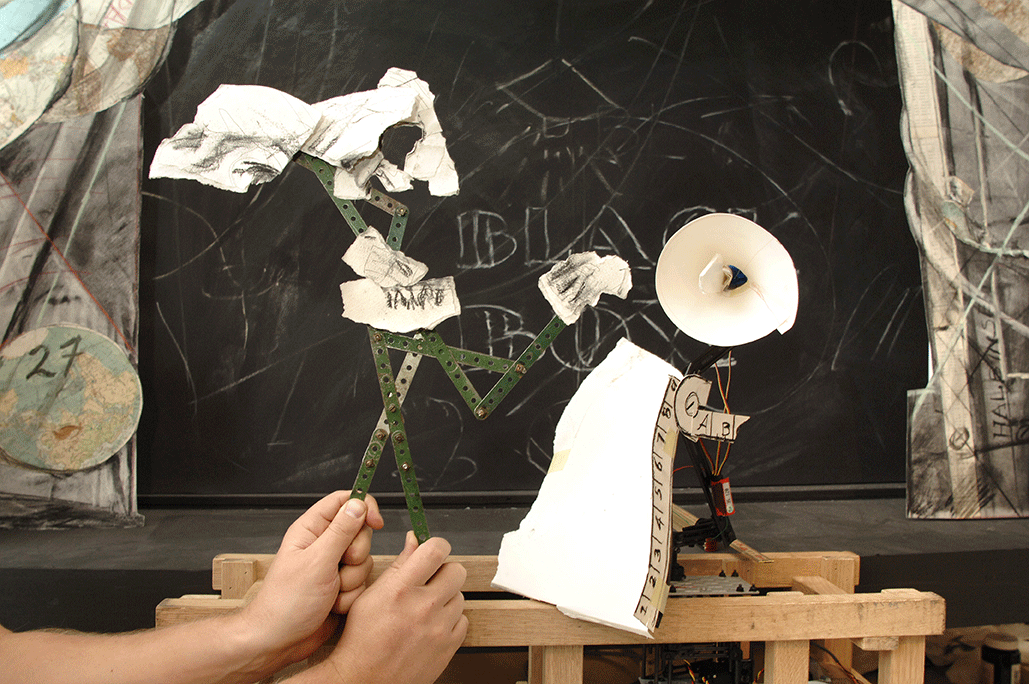 I'm playing with three sets of associations in Black Box. The first is the black box of the theater. The installation consists of a model of a theater, which houses projections and characters. The characters are small automatons—mechanized (and not necessarily anthropomorphic) objects that perform, together with the projections, within the theater space. So the first reference is to the "black box" of the performance realm. 
The second association of the black box is the chambre noir—the central chamber of a camera between the lens and the eyepiece, into which light enters and where a kind of meaning is created. Here, the infinite possibilities of the outside world come in, but a single image is chosen, fixed upon the plane.  
The third reference is the voice data recorder that is used to trace the last moments before an airline disaster. And the disaster I will be referring to—although I will not necessarily describe it nor didactically enumerate its stages—is the German massacre of the Herero people in Southwest Africa from 1903 to 1907.
Sarastro, the high priest in Mozart's Magic Flute guides the hero of the opera in his journey towards wisdom. As a symbol of the enlightenment, Sarastro combines all knowledge with all power. In the two hundred and fifteen years since Mozart wrote the opera we have come to realise what a toxic mixture this is: the combination of certainty and a monopoly of violence. The opera production looks at the enlightenment in its optimistic phase. Black Box/Chambre Noire examines one of its calamitous trajectories.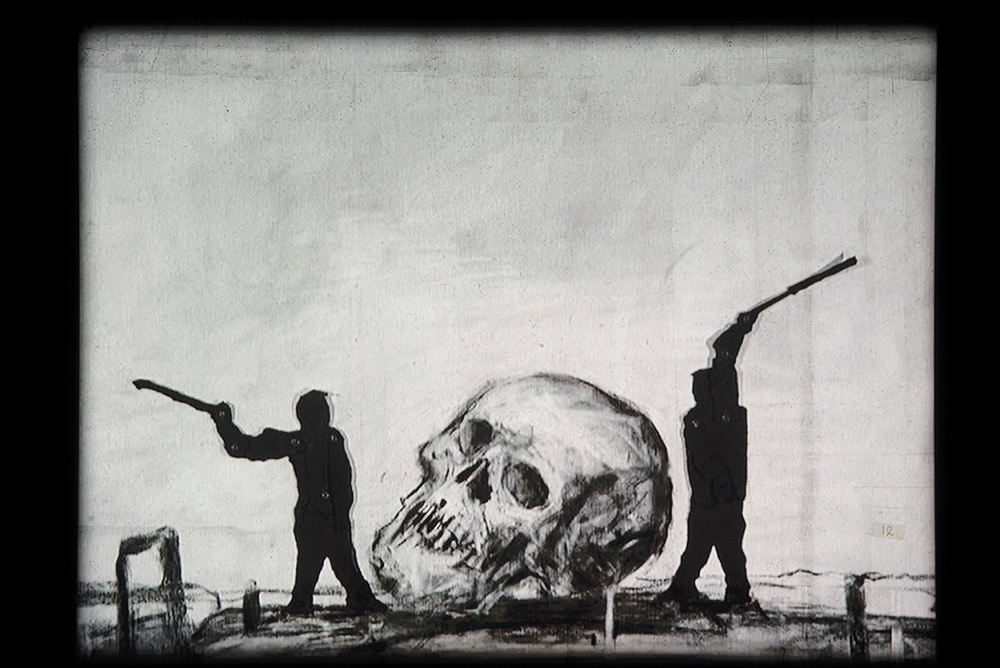 Credits: Black Box / Chambre Noire
2005
Animated 35 mm film transferred to video, projected front and back onto model theater with drawings and mechanical puppets
Musical composition
Philip Miller
Mechanical Design
Jonas Lundquist
Singers
Alfred Makgalemele, Vevangua Muuondjo
Musical recordings in Namibia
Minette Mans, Philip Miller
Programming for mechanical objects
Ronald Halgren
Editing
Catherine Meyburgh
Lighting
Ann-Charlotte Fogelström
Black Box / Chambre Noire  was co-commissioned by Deutsche Bank and Solomon R. Guggenheim Foundation for the exhibition William Kentridge: Black Box / Chambre Noire at Deutsche Guggenheim
October 29, 2005 – January 15, 2006